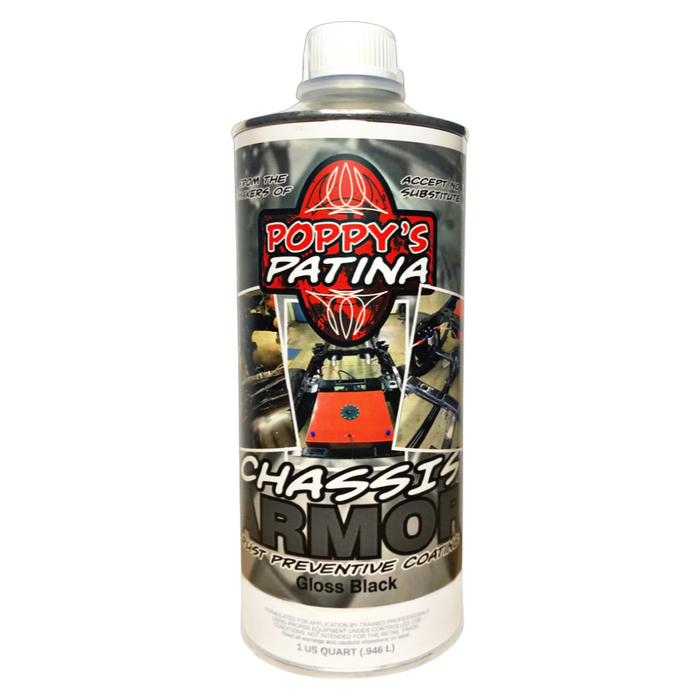 Chassis Armor - Gloss Black
Original price
$0.00
-
Original price
$0.00
From the makers of Poppy's Patina, we present our Chassis Armor.
Professionally Formulated
Prevents Rust 
Commercial Grade
Gloss Black 
Accept no substitute!
Easy reopen can design!
 See Application Instructions here
Description
Poppy's Chassis Armor is a single pack moisture cure urethane that is designed to prevent or stop rust. It can be either brushed, rolled, or sprayed. Our Chassis Armor is a high performance coating designed for application directly on rust or seasoned metal surfaces; it will form a complete waterproof barrier to stop rust immediately. Will not crack or chip, dries to a hard flexible finish. A North American VOC Compliant Single stage coating.
We chose a 32oz can design with a plastic lid so you can easily reuse your Chassis Armor without having to worry about the lid being stuck. 
*One 32oz can will cover 90 sq ft.* 
Kit Includes
x1 32 oz can of Chassis Armor, x1 16oz plastic container, x1 2" 50.8mm Chip Brush