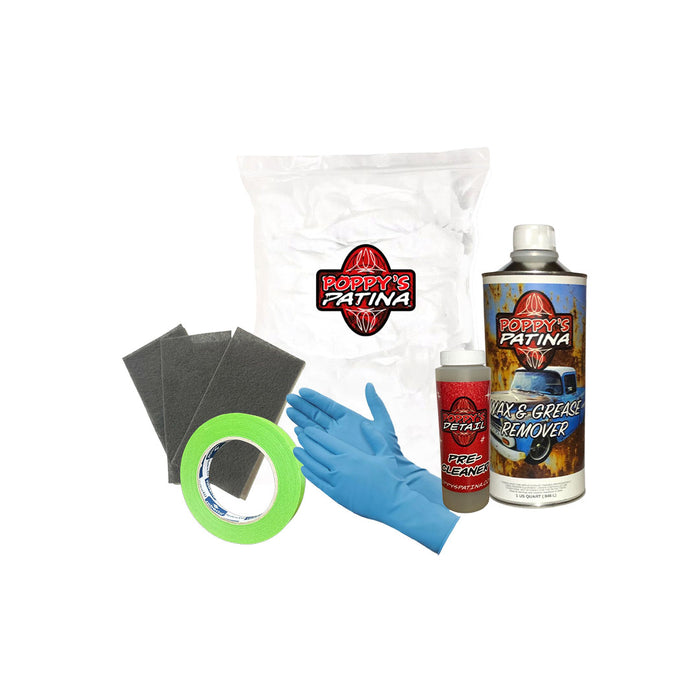 Prep Kit
Original price
$45.00
-
Original price
$45.00
Our Prep Kit includes everything you need to prep your ride before clear coating!
Description
Our White Knit Rags are used with our Wax and Grease remover, or just to clean up messes.
Our Light Duty Gray Scuff Pads are used to scuff the surface before clear coating to achieve proper adhesion
The Green Roberlo Tape is 3/4 inch by 60 yards, it is used to mask off areas that you don't want clear coat on.
The Blue Painter Gloves are high quality thick gloves to keep your hands protected while prepping/applying.
Our Pre-Cleaner is a premium soap wash designed for cleaning surfaces before prepping for paint or Clear Coat.
Our Wax and Grease Remover is a final cleaner used before applying our clear coat. It is used to remove any surface contaminates that may be present after washing with our Pre-Cleaner. It will remove any wax or oil type coating that may have been previously applied to your patina surface. 
Kit Includes
x1 pound White Knit Rags, x3 Light Duty Gray Scuff Pads, x1 Roll of 3/4" 60yd Roberlo tape, x4 pair of Blue Painters Gloves, x1 Pre-Cleaner, x1 qt. Wax and Grease Remover