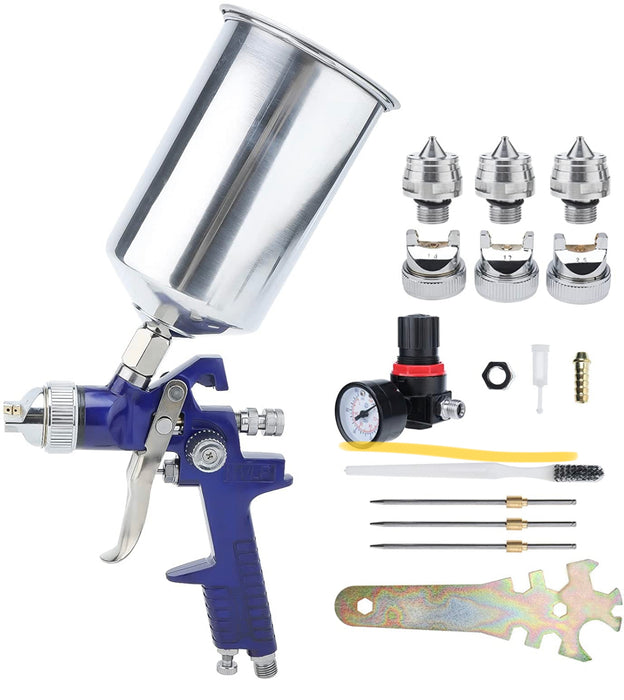 Vapor Spray Gun
Original price
$54.95
-
Original price
$54.95
Product Includes: 1 x Air Paint Spray Gun; 3 x Nozzles (1.4mm,1.7mm,2.5mm); 3 x Paint Needles; 1 x 1000cc Aluminum Cup(1L); 1x True Micrometer Air Regulator with Gauge; 1 x Barbed Tail; 1 x Adjustment Wrench

The HVLP gravity feed spray gun kit is used for most automotive cars painting, furniture painting, surface painting and equipment painting.

The paint sprayer gun kit includes a 34 fl oz (1000cc) metal cup for uninterrupted use. It is compatible with water-soluble paint and a variety of spray paints.

The hvlp spray gun is with control knobs to adjust over spray pattern, fluid control and air pressure. Fluid control knob adjusts the amount of spray paint, pattern control knob adjusts the fan pattern size, and the air conditioning valve provides the ability to adjust the air flow rate.

1.4mm/1.7mm/2.5mm stainless steel needles and nozzles set are included in the kit, these 3 sets can meet your different applications to achieve the effect of spraying.
HVLP paint Spray Gun Kit Specification
Type: HVLP
Size of 3 Fluid Nozzles: 1.4mm, 1.7mm, 2.5mm
Cup Capacity: 34 fl oz (1000cc)
Pressure required: 15-43 psi
Air consumption: 7-12 CFM
Compressor required: 1-3 HP
Air connection: 1/4" NPS(M)

Package includes:
1 x Spray Gun
1 x 1.4mm Nozzle (installed on spray gun)
1 x 1.7mm Nozzle
1 x 2.5mm Nozzle
3 x Rods/Paint Needles (1 installed on spray gun)
1 x 1000cc Aluminum Cup
1 x True Micrometer Air Regulator with Gauge
1 x Barbed Tail Brush
1 x Adjustment Wrench